At Carnival there is always the desire to have fun with an easy-to-prepare dessert!
The desserts of the Carnival tradition are many and often have a regional diffusion from north to south Italy.
Here you will not find the classic recipe of "fried chatter", "castagnole" or homemade "zeppole", but a delicious dessert made with few ingredients: thanks to friend David Perissinotto here is an easy and colorful dessert just as required by the cuisine from the carnival period.
For this recipe we used the classic panettone ready in slices, but you can also use an leftover slice of pandoro or focaccia.
The recipe
Ingredients
For the lemon custard:
- 500 ml milk
- 6 egg yolks
- 120 g sugar
- 40 g rice starch
Organic lemon peel
Seasonal fruit (kiwi, mandarins, raspberries, passion fruit, pomegranate)
Fresh whipped cream and powdered sugar to decorate
Directions
Bring the milk to the boil with the lemon peel.
In a bowl put the egg yolks and sugar, whip with a whisk, add the sifted rice starch.
When the milk starts to boil, pour a third of it into the mixture; mix well, put everything back into the milk pan and let it thicken over high heat for another 2 minutes from when it starts boiling again. Ready the cream, let it cool for an hour.
In the meantime, wash and peel the fruit and cut the slice into cubes.
Trim the darker edges of the panettone slice and cut into cubes.
Toast the panettone cubes in a non-stick pan over low heat, until they are golden brown on all sides.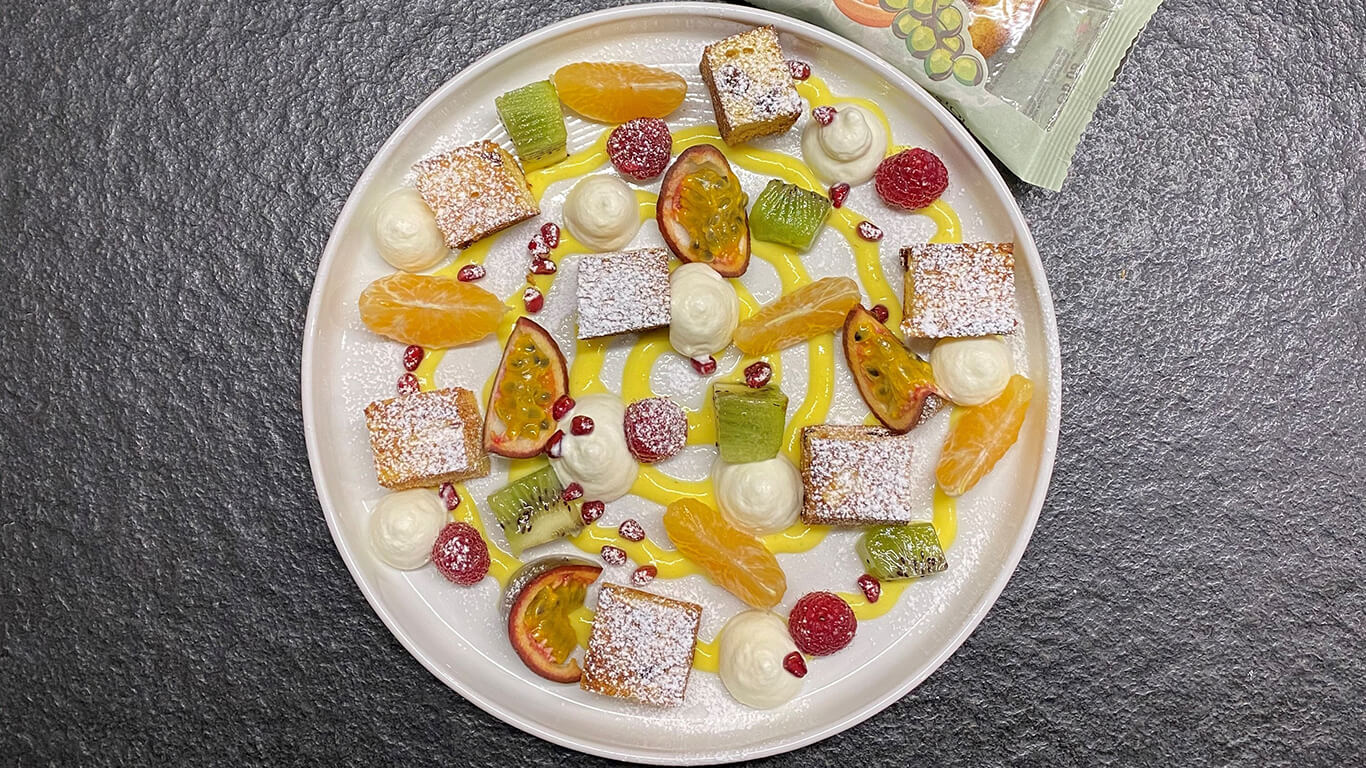 When the cream is cold, transfer it to a pastry bag and decorate a plate forming a spiral.
Then add the cubes of panettone, the fruit and finally some sprigs of fresh cream. Complete with pomegranate grains and a sprinkling of powdered sugar.