Gnocchi are a traditional Italian dish. In this recipe they are presented in a creative recipe with raisins and in a panure of panettone powder.
This month Chef Cristopher Carraro has prepared potato gnocchi with raisins, panettone and saffron "vegetarian mayonnaise".
Made in Loison recipes are "smart" ideas for using panettone in a simple and creative way, creating new sweet and savory dishes.
Subscribe to our YouTube Channel to discover new recipes and the sweet world of Loison!
The recipe
For this dish, you can read the instructions below or follow the video-recipe.
Ingredients
4 servings
For the Gnocchi
-2 medium-sized potatoes
-White flour qs
-1 egg
-Raisins
-Salt and black pepper
-Loison panettone powder
-Butter and sage
For the Saffron sauce
-Soy milk
-Saffron pistils
-Seed oil
Directions
Boil the potatoes in their skins, drain and peel them. Let them cool down and then mash them, add an egg, the right amount of flour not to make them rubbery and the chopped raisins. Form a flattened cylinder and cut to make square-shaped gnocchi.
Pour the soy milk into a small saucepan, add salt and pepper to taste, and when it begins to boil, add the saffron pistils. Pour the mixture into a blender, turn on the blender and add the seed oil until it forms a mayonnaise that is not too thick.
Cook the gnocchi, draining them as soon as they rise to the surface. Melt the butter in a small frying pan with the sage and add the gnocchi; brown on both sides and add more butter if necessary. Finally pass the gnocchi on the panettone powder.
Plating
Drop spoonfuls of saffron sauce randomly onto the plate, place the gnocchi in the panure of panettone powder on top and garnish with a few leaves of aromatic herbs.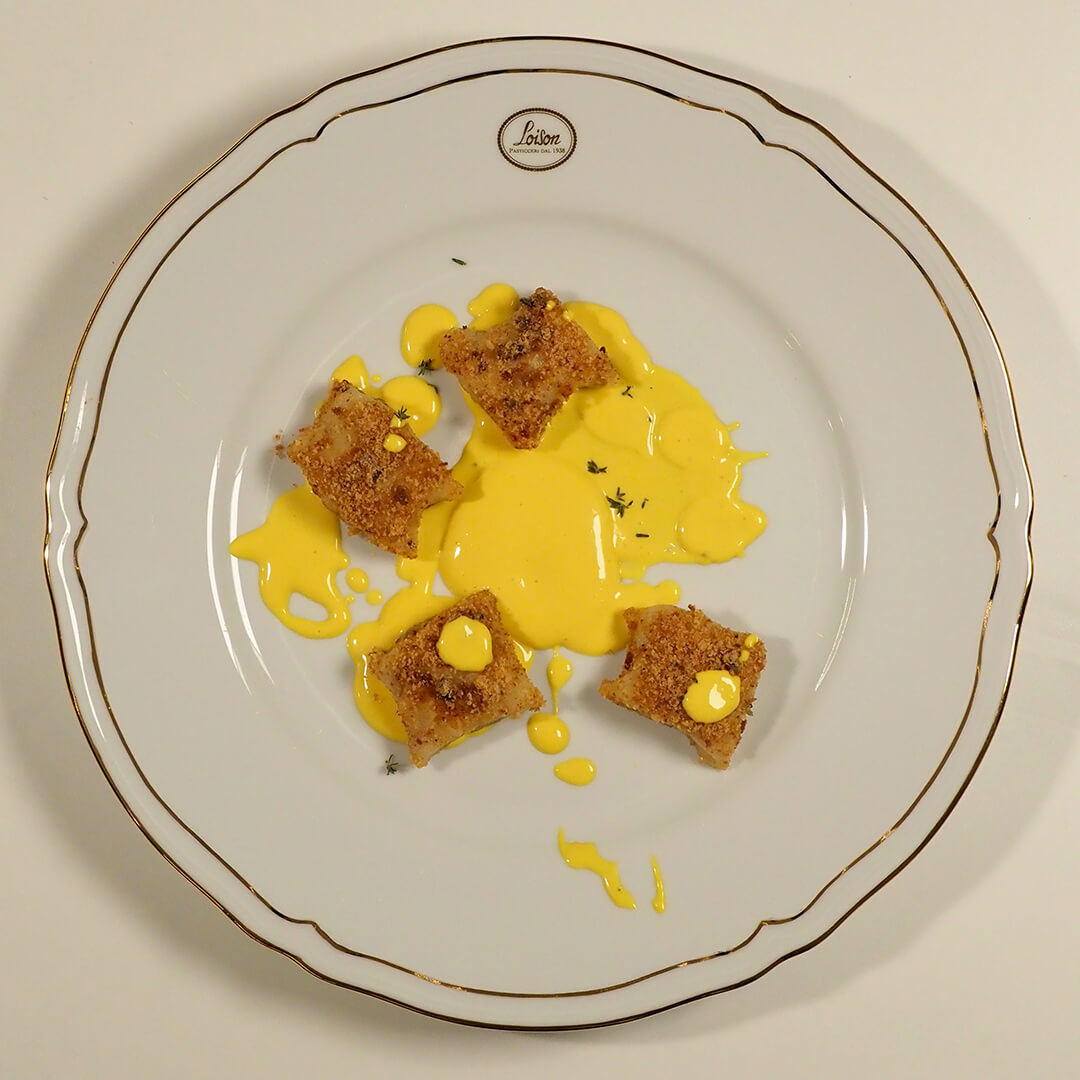 Bon appetit!