Here is a historical British recipe to reuse the Easter dove in a clever way and with a little creativity!
Our friend Chiara Caprettini, from the NordFoodOVestEst Blog, offers us the Scotch Woodcock: it is not Woodcock but a historic British recipe consisting of scrambled eggs on toast toasted with Gentelman's Relish and anchovies. Why not interpret it in an "unusual" way by reusing the leftover Dove instead of bread? The relish is also very easy to prepare, just the anchovy paste and a little mustard!
For this recipe we used the classic Colomba, but you can also replace it with the classic Veneziana.
The recipe
Ingredients
Ingredients for 4 slices:
- 4 slices of classic colomba
- 3 eggs
- 8 anchovy fillets in oil
- 8 asparagus tips
- about 70 ml of fresh cream
- 1 clove of garlic
- butter
- extra virgin olive oil, salt and pepper to taste
For the relish:
- 2 teaspoons of anchovy paste
- 3 teaspoons of mustard
- a pinch of paprika and a pinch of nutmeg
Directions
In a bowl beat the eggs vigorously together with a pinch of salt and pepper, then in a pan melt the butter over very low heat.
Add the beaten eggs and turn immediately (with a wooden spoon). Cook over low heat and always turn. At the end, transfer the scrambled eggs to a plate, add the fresh cream, a pinch of paprika and mix well.
In a pan, heat two tablespoons of oil with salt, pepper and crushed garlic. Add the asparagus tips and cook over low heat for a few minutes (adjust with the addition of vegetable broth during cooking). The tips should remain crunchy.
Prepare the relish: in a bowl combine all the ingredients and mix until the mixture is rather creamy.
Heat a plate and toast the slices of colomba on both sides for a few minutes.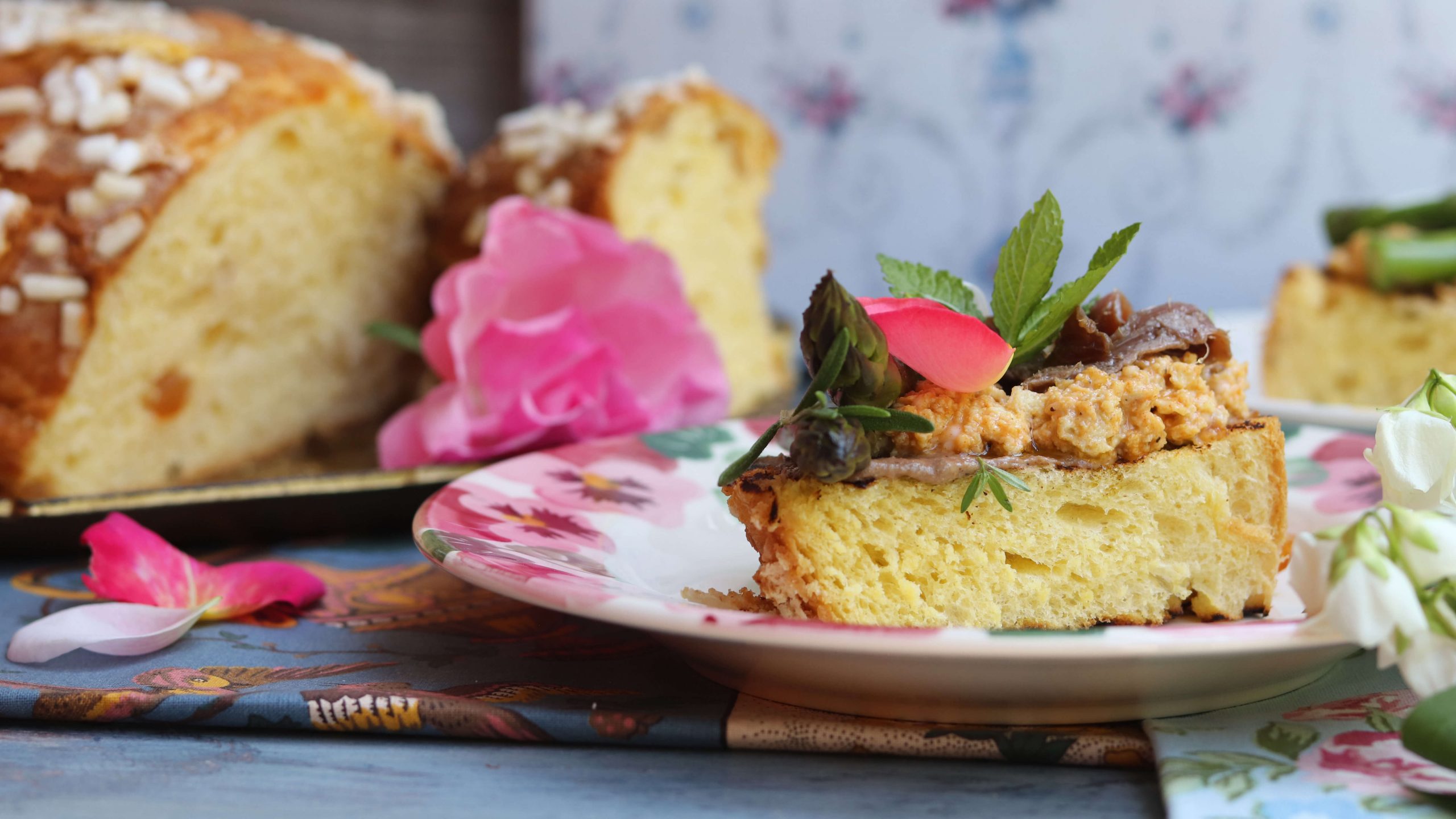 Plating
Compose your Toast: spread each slice of relish, then stuff with scrambled eggs and finally with asparagus tips and drained anchovy fillets. Decorated with edible flowers and aromas.