An innovative combination of fish and Panettone with Late Mandarin from Ciaculli (Slow Food Presidium).
Chef Renato Rizzardi from La Locanda di Piero in Montecchio Precalcino (Vi) teaches how to prepare a tasty appetizer with La Lampara marinated anchovies and panzanella made with Loison's Panettone Mandarin.
Get to know Renato Rizzardi here.
Do not forget to subscribe to our Canale YouTube and watch our new video recipes!
The recipe
You can read the recipe or watch it on video below!
Ingredients
4 servings
For the Anchovies
- 250 g fresh anchovies
- 60 g coarse salt
- 35 g sugar
- 125 g white wine vinegar
For the Tomato emulsion
- 350 g fresh tomatoes
- 100 g tomato sauce
- 400 g olive oil
- 100 g corn oil
- 2 g salt
- 1 g xanthan gum
- 5 g sugar
For the Panzanella
- 75 g Loison Panettone Mandarin
- 125 g tomato concassé with tomato skins
- 150 g tomato mayonnaise
Salt and pepper q.s.
For the candied Lemon slices
- 500 g fresh lemons
- 500 g sugar
- 500 g glucose
Directions
Marinate the anchovies with salt, sugar and white wine vinegar in the fridge for two hours. Fillet the anchovies and wrap them between two sheets of baking paper. Put them in a vaccum pack then in the freezer.
Blend the fresh tomatoes with the tomato sauce. Add salt, pepper, xanthan gum and sugar. Beat with olive and corn oil. Filter the emulsion with a chinois sieve.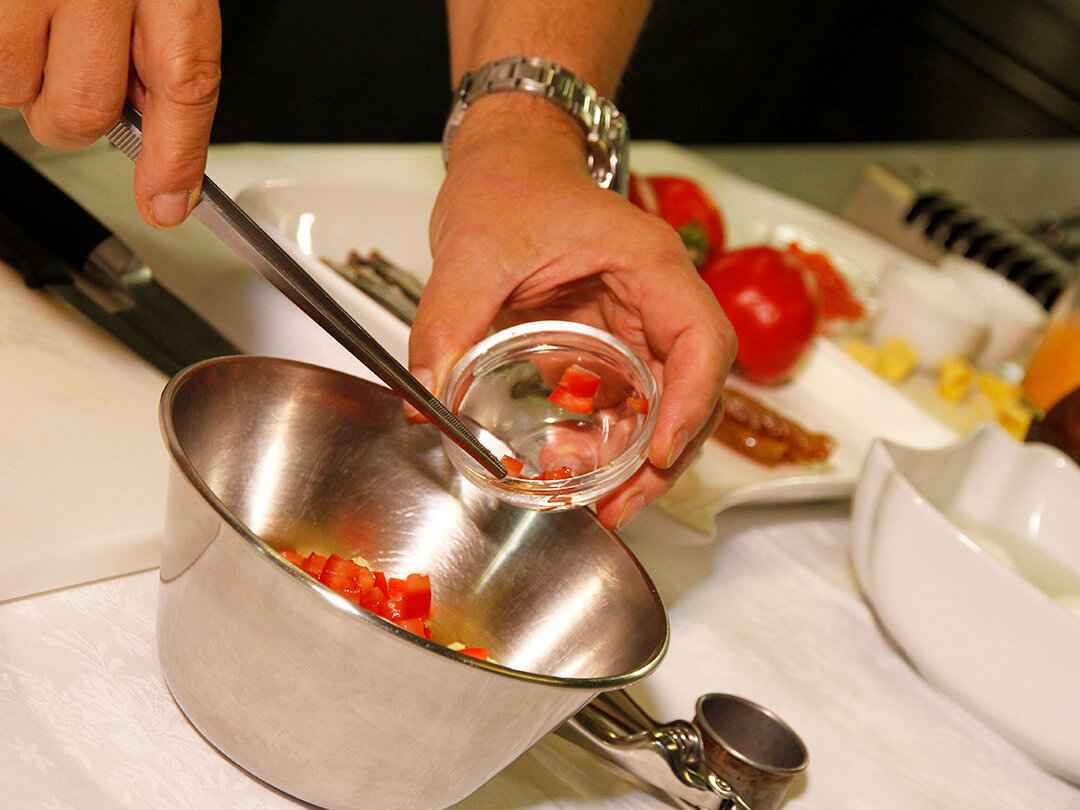 Mix the marinated anchovies with the tomato emulsion to make the panzanella. Let rest for a few hours.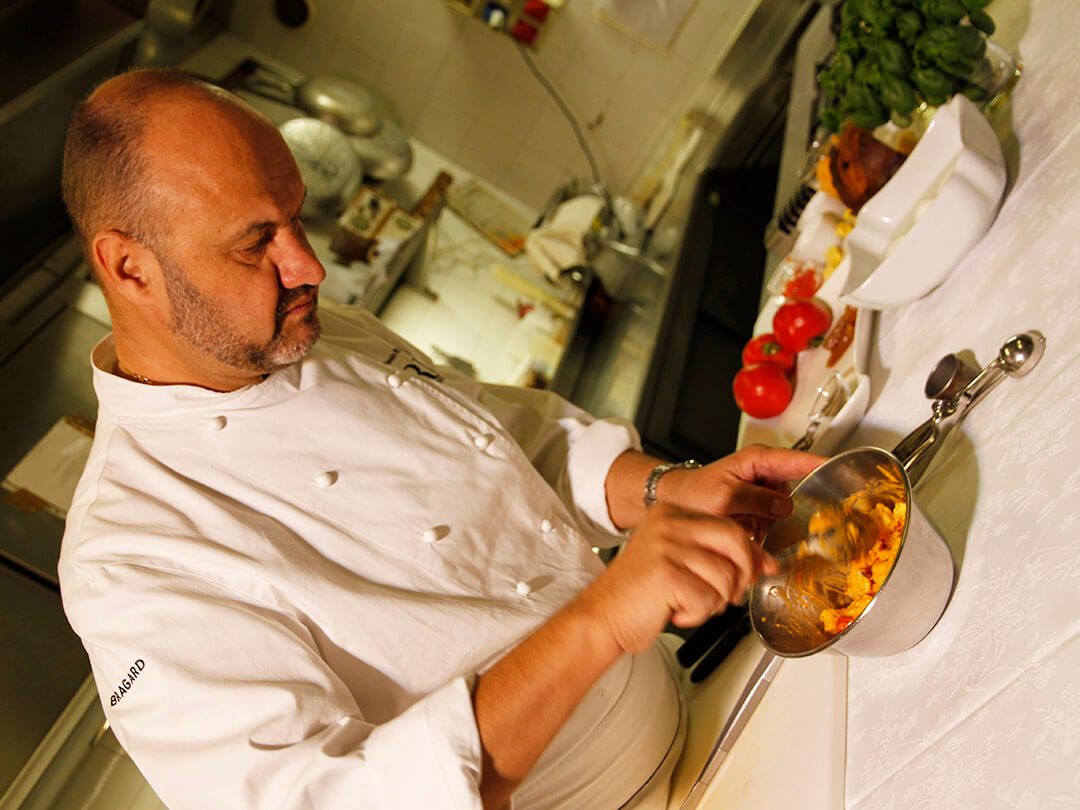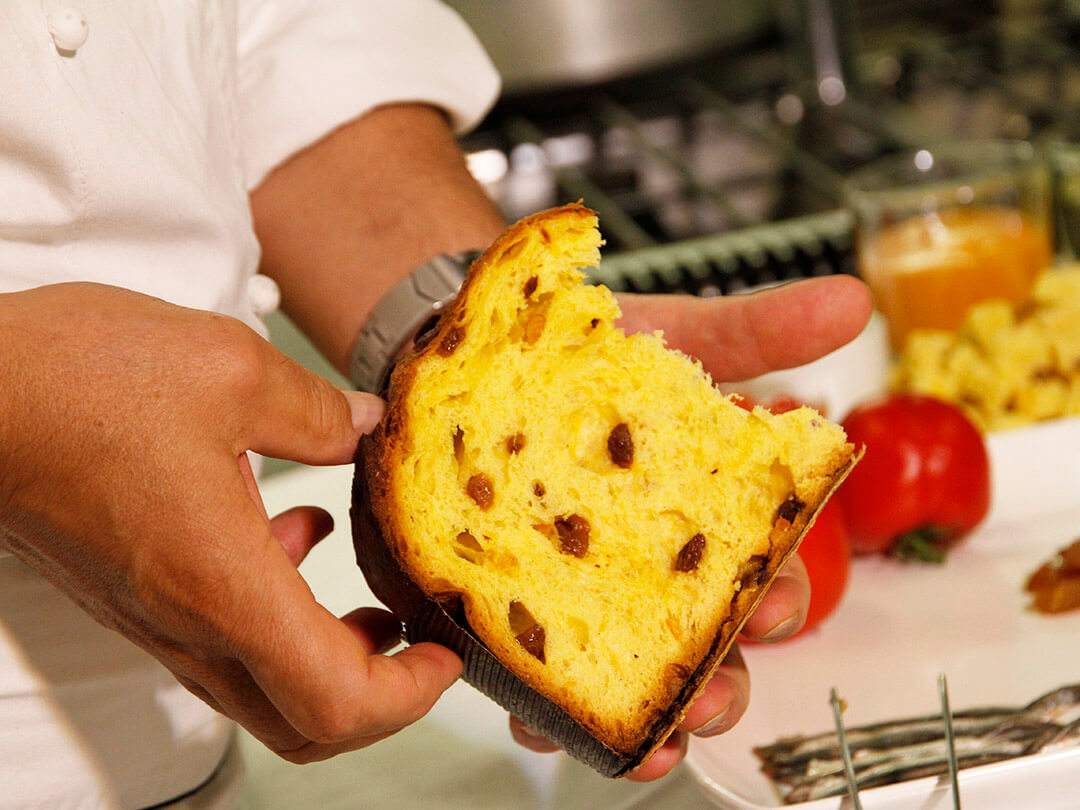 Simmer the lemon slices over a low heat and in a syrup made of 500 g water, 500 g sugar and 500 g glucose for 30 minutes. Drain the slices, let them cool then simmer them again for 30 minutes. Repeat this procedure for about 3 days until the slices are fully candied.
Presentation
Arrange the panzanella in small cylinders on a plate, lay down the anchovies on top of small mozzarella bites and decorate with candied lemon slices.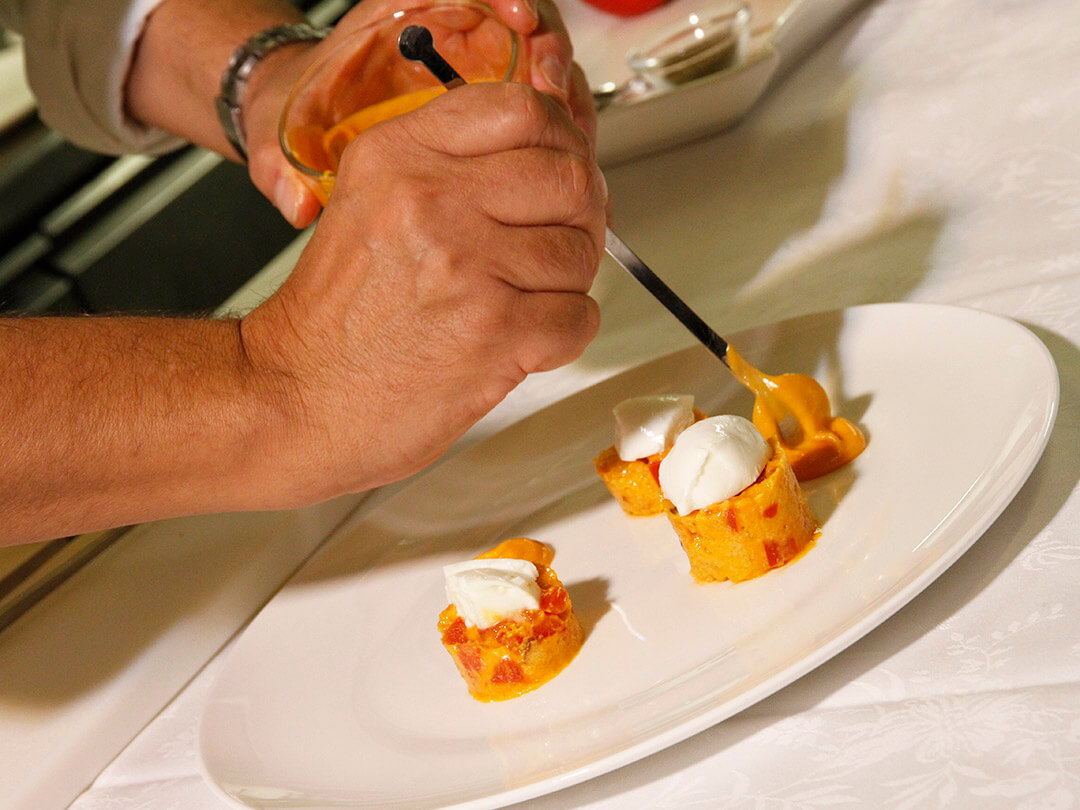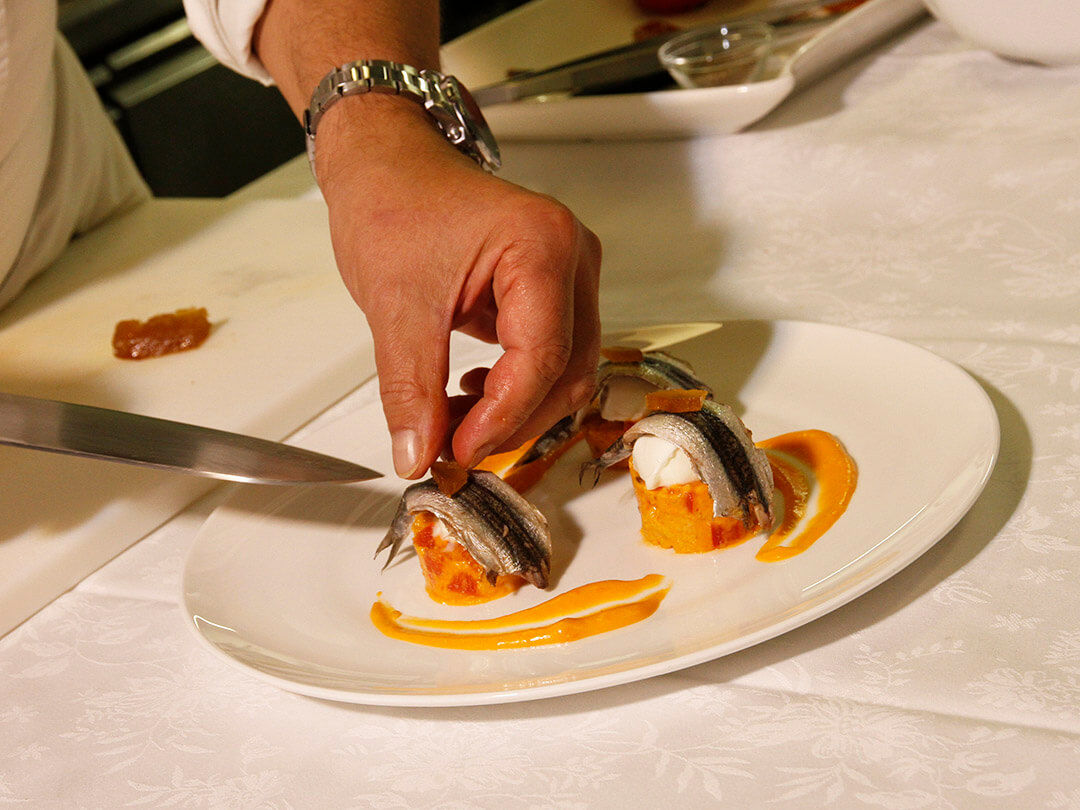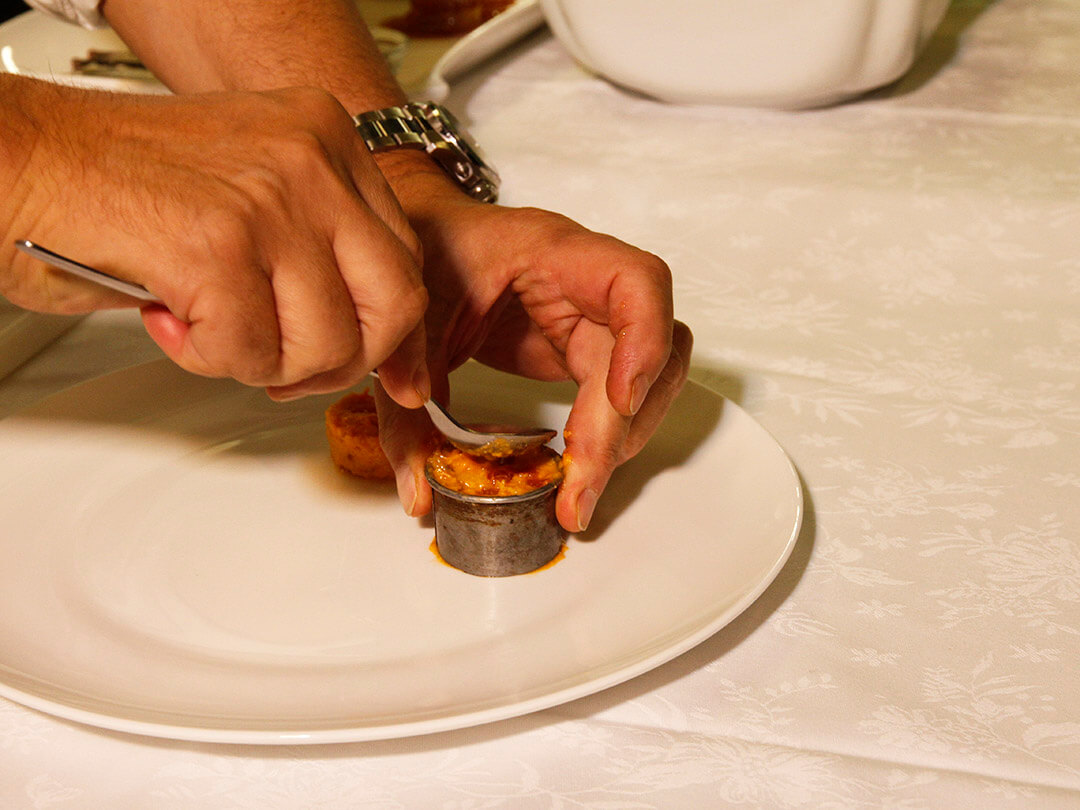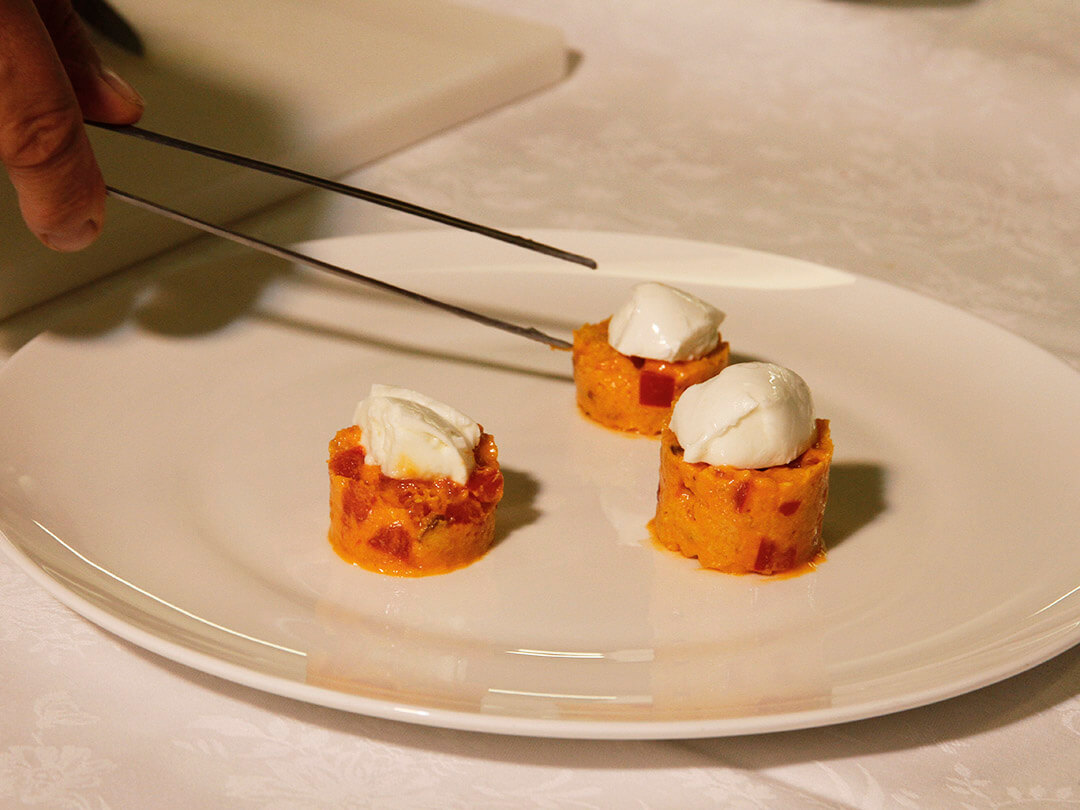 Buon Appetito!