Softness, taste and a pinch of creativity gives to the Panettone a new consistency.
Alberto Basso, chef and patron of the restaurant Tre Quarti in Grancona (Vi), wanted to play with Loison Panettone Powder with Ciaculli Late Mandarin (Slow Food Presidium) to make his "Crème brûlée with Mandarin Panettone mousse and raspberry beer spheres".
To learn more about Alberto Basso click here.
Remember to subscribe to our YouTube Channel for the latest video recipes from our Chef Friends!
The recipe
To learn how to make this recipe, you can either read the instructions below or you can watch the video in which the Chef explains how to recreate it.
Ingredients
4 servings
For the Crème brûlée:
- 525 g heavy cream
- 225 g milk
- 225 g sugar
- 1 vanilla bean
- 400 g egg yolk
For the Panettone mousse:
- 150 Loison Panettone Powder with Late Mandarin from Ciaculli
- 400 g milk
- 4 gelatin sheets
Beer spheres:
- 240 g water
- 250 g sugar syrup
- 3 gr alginate
- 450 g raspberry beer
- Calcium chloride
Raw brown sugar
Loison Panettone Powder
Dehydrated raspberries
Directions
Combine all the ingredients in a bowl and cook in a water bath, stirring constantly with a whisk without exceeding 85°-86° C, which is the cooking temperature of the egg yolk. As soon as the custard reaches the right consistency, remove from the stove and then cool in the refrigerator.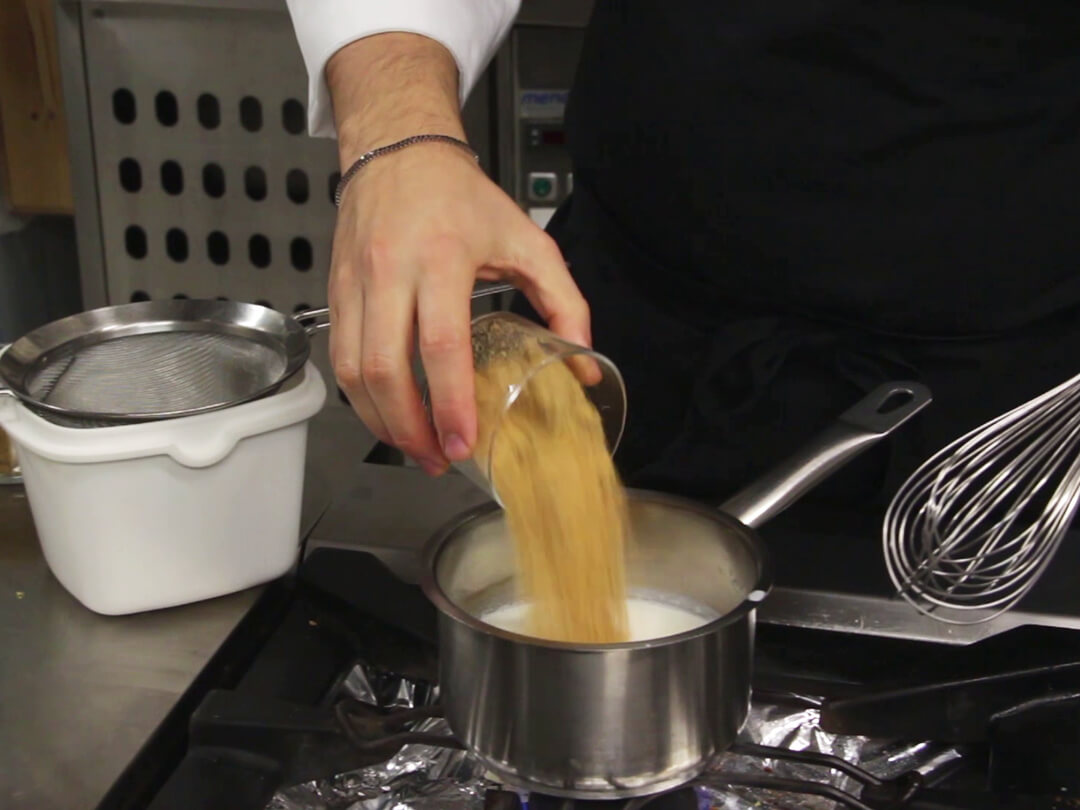 Chef's Tip
Over 85-86°C you get into a cooking temperature of the egg yolk.
Soak the gelatin in cold water until softened, then squeeze. In a saucepan, stir the milk, the gelatin and the Panettone powder. Bring to a boil, then process with a Thermomix until smooth. Transfer to a siphon, load it and refrigerate. Remove from the refrigerator about an hour before assembling the dish.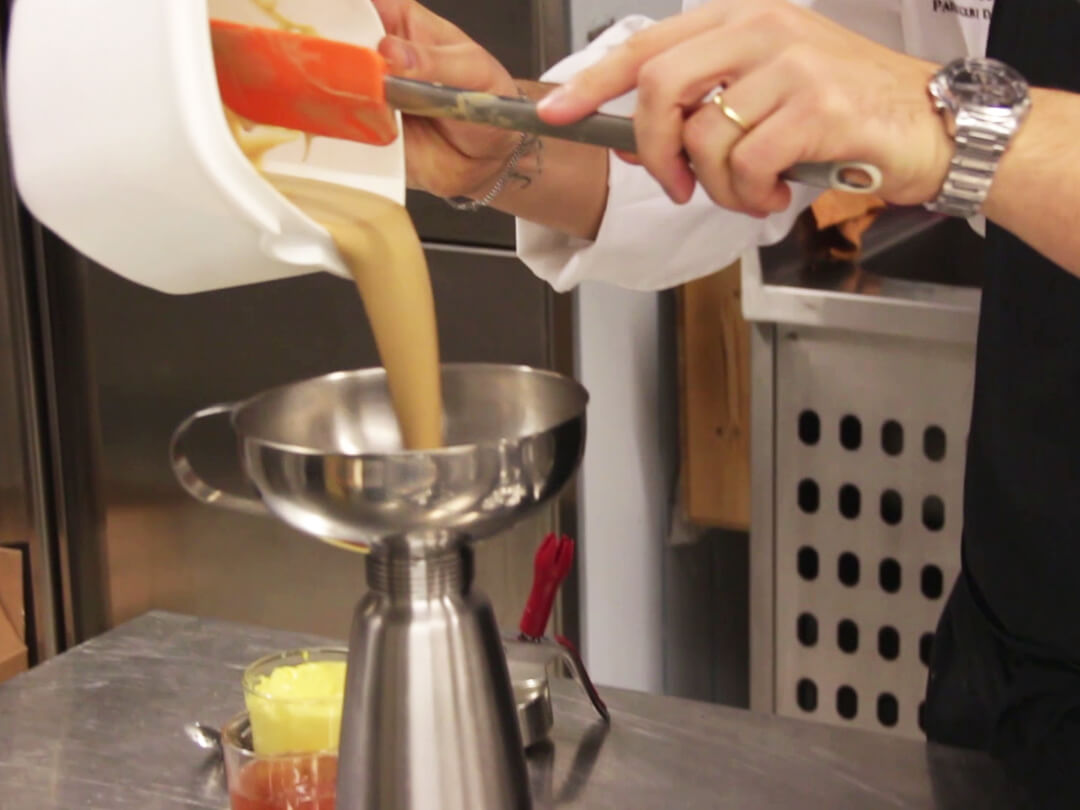 Blend the first three ingredients, sift and then vacuum seal to remove air bubbles. Slowly add the raspberry beer and let stand for about 4 hours. Draw with a syringe and drip into a solution consisting of 500 g of water and 4 g of calcium chloride. With the help of a slotted spoon, collect the spheres and wash in running water.
Pour the crème brûlée onto a serving dish, sprinkle with raw brown sugar and torch to caramelize. Syphon the Panettone mousse and arrange the raspberry beer spheres on top. Dust with Loison Panettone Powder and garnish with dehydrated raspberries.
Enjoy!