A touch of pink at the table!
Our friend Chiara Caprettini, author of the NordFoodOvestEst magazine, prepared this colorful and tasty first course for us: Mandarin panettone gnocchi with salmon.
The secret of these pink gnocchi? Beetroot powder that doesn't affect the flavor but gives light and color! For the panettone, however, Chiara used the practical ready-made slices, ideal for breakfast and brunch but also for savory recipes like this one!
The recipe
Ingredients
4 servings
For dumplings:
- 2 boiled potatoes
- 1 slice of Loison mandarin panettone (60 g)
- about 120 g of rice flour
- 1 egg
- 1 teaspoon of beetroot powder*
- 2 tablespoons of extra virgin olive oil,
- salt and pepper, water to taste
A slice of salmon (about 350 g)
the beards of 2 fennels
20 g of pine nuts
1/2 glass of Prosecco (or white wine)
a grated orange zest
extra virgin olive oil, salt and pepper to taste
chives to serve
*Does not affect the flavour, but is used to add colour.
Directions
Pelate le patate e schiacciatele bene.
In un mixer sminuzzate la fetta di panettone e unitela alle patate insieme alla farina di riso, l'uovo, e poi olio, sale, pepe, polvere di barbabietola e acqua. Mescolate bene fino a ottenere un composto compatto. Create un panetto, avvolgetelo nella pellicola trasparente e fatelo riposare in frigorifero.
Nel frattempo, sminuzzate le barbe del finocchietto. In un tegame scaldate due cucchiai di olio con sale e pepe, unite il finocchietto, i pinoli, la scorza di arancio e fate insaporire per un paio di minuti.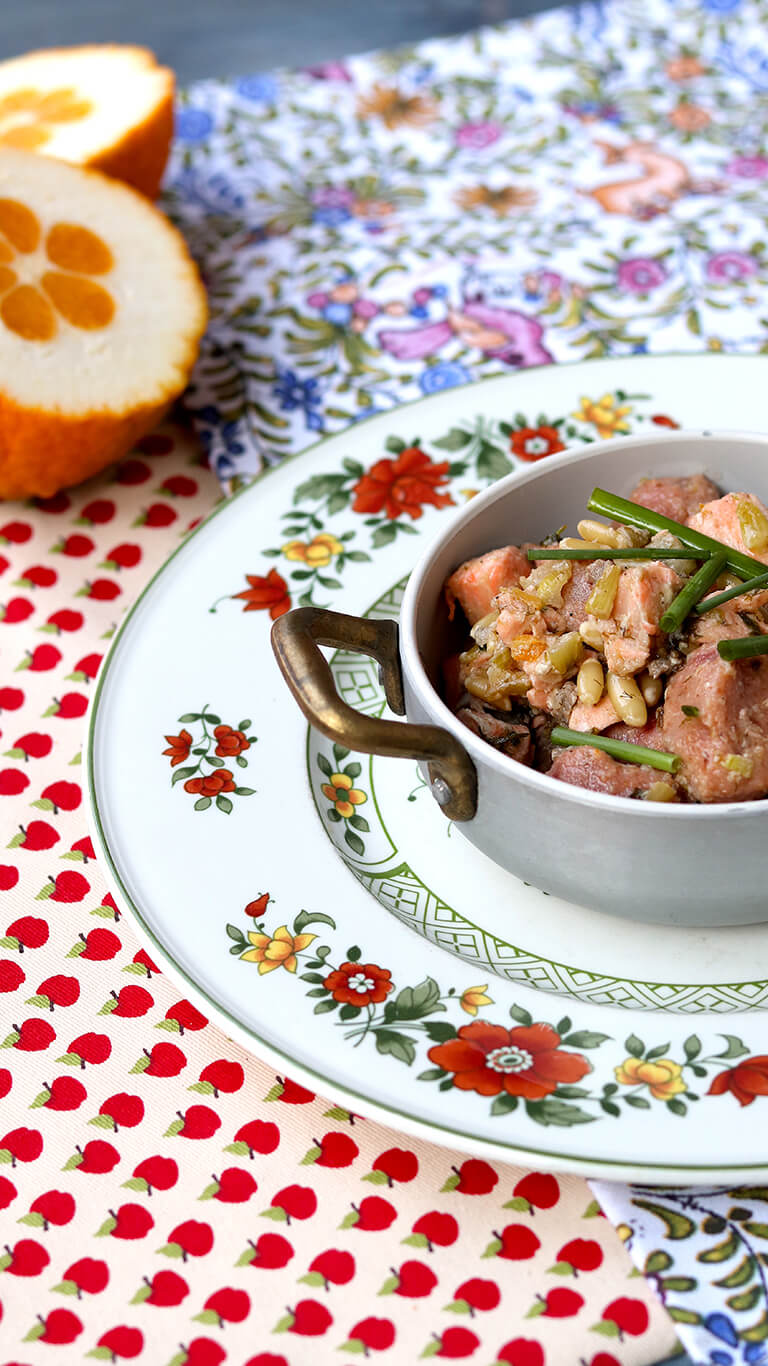 Private il salmone di pelle e spine, tagliatelo a cubetti e unitelo al tegame, sfumate con il vino e cuocete qualche minuto a fiamma alta (il salmone dovrà diventare rosato ma non completamente cotto). Coprite, spegnete e fate riposare.
Preparate gli gnocchetti: dal panetto ricavate dei cilindri e da ognuno con un coltello ricavate dei gnocchetti (circa 1,5 cm di lunghezza). Cuoceteli in abbondante acqua bollente salata, e scolateli solamente quando salgono in superficie.
Uniteli al salmone, aggiungete ancora un mestolo di acqua di cottura e mantecate a fiamma alta qualche minuto con due cucchiai di olio.
Impiattamento
Servite gli gnocchetti con erba cipollina fresca a pezzetti