A recipe linked to a childhood memory of the chef: a tribute to his grandmother from Ercolano who used to prepare meatballs with a filling of pine nuts and raisins.
Marco Perez, chef of the restaurant Rifugio AlpiNN in Plan de Corones – Brunico (Bz), has prepared a cold sweet-savory appetizer: Uncooked meatball, Ercolano and Panettone.
To learn more about Marco Perez click here.
Remember also to subscribe to the YouTube Channel Loison Pasticceri: you will be updated with new video-recipes by our Chef Friends!
The recipe
For this dish you can read the instructions below or follow the video-recipe where the chef explains how to make it.
Ingredients
4 servings
For the meatball
-280 g beef pulp
-30 g pine nuts
-30 g pistachios
-30 g raisins
-30 g parsley
-30 g caciocavallo cheese
-salt flakes
-fresh chili pepper
For the cherry tomatoes
-100 g cherry tomatoes
-5 g evo oil
-garlic - salt - brown sugar - fresh oregano
For the pine nuts cream
-100 g pine nuts
-20 g evo oil
-10 g corn heart oil
-lemon juice - soy sauce - salt
200 g Panettone Classico Loison
Directions
Take the pine nuts and pistachios and toast them in the oven until golden brown. Let them cool and chop them coarsely. Finely chop the raisins and coarsely chop the parsley.
Clean the meat, trim it, cut it until it is fine and season it with the grated caciocavallo cheese, the chopped parsley, a part of the chopped pine nuts and pistachios, the raisins and the tomatoes. Add a drizzle of oil and let it rest.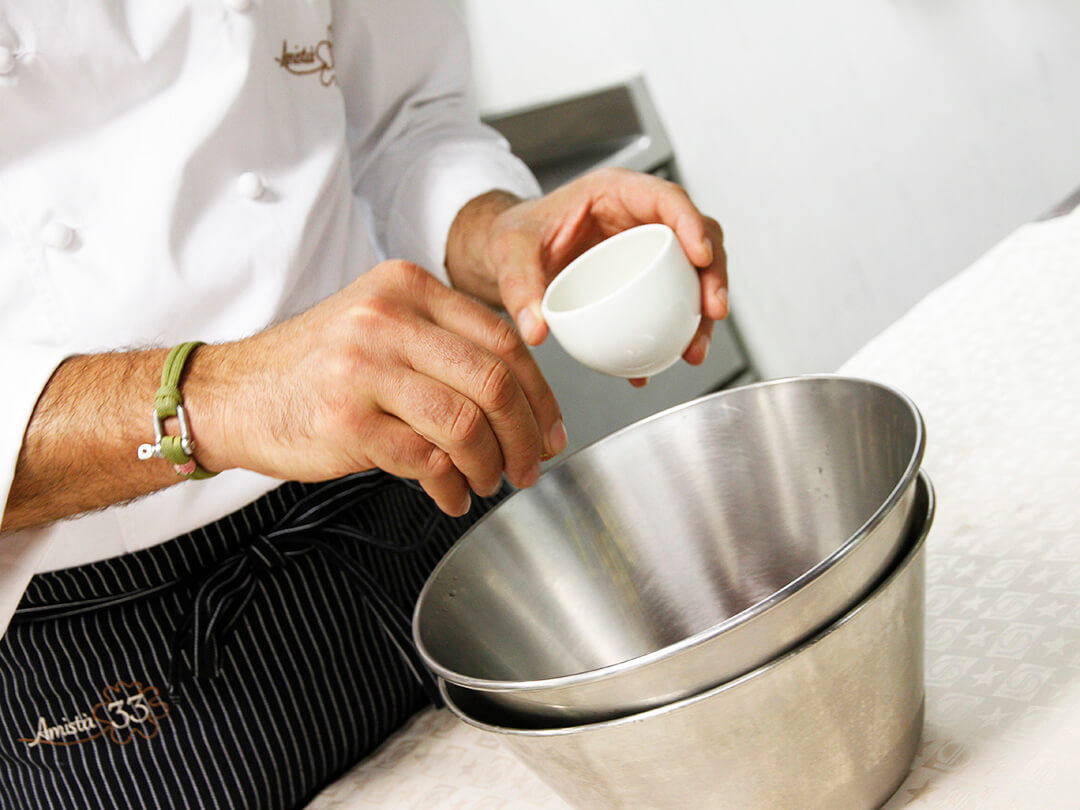 Cut the Panettone into rounds the same size as the ramekin you will use to serve the meat. Season with the ingredients and toast in the oven for 2/3 minutes until golden brown.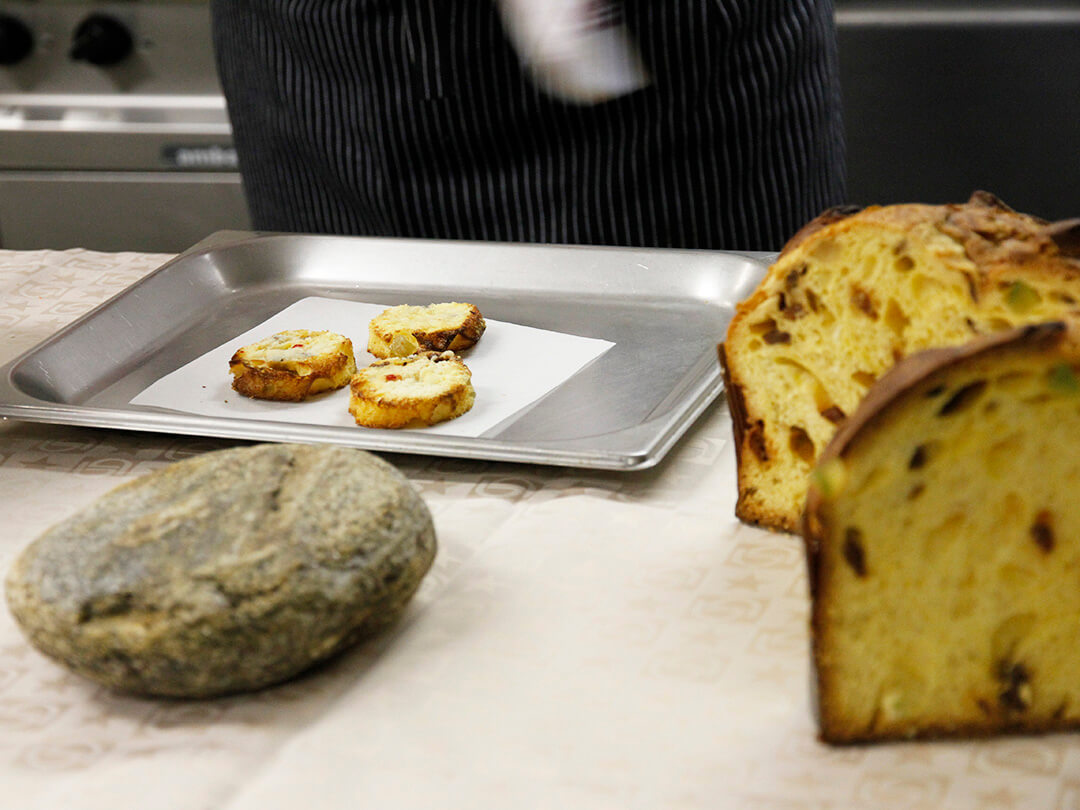 Plating
For the presentation use as a base a stone on which to lay the toasted panettone, add some salad leaves and the uncooked meatball. Finally sprinkle some pine nuts and pistachios, parsley, cherry tomatoes, a few drops of pine nut cream and finish with a drizzle of olive oil and a pinch of salt flakes.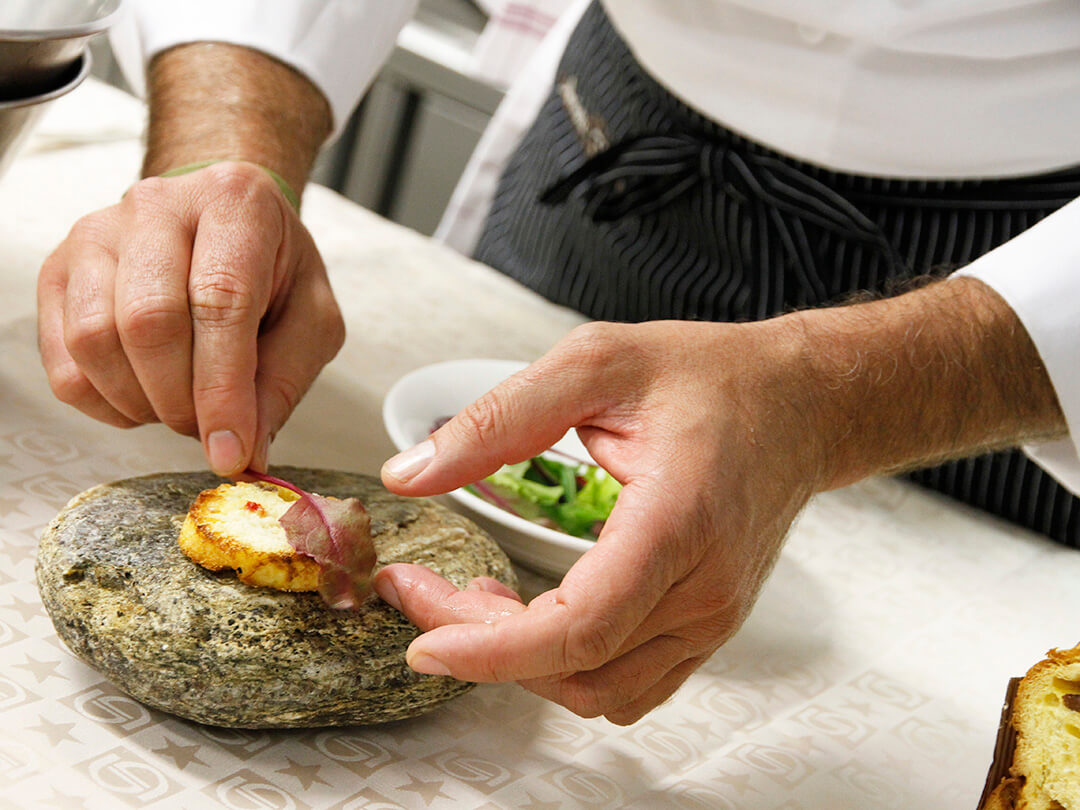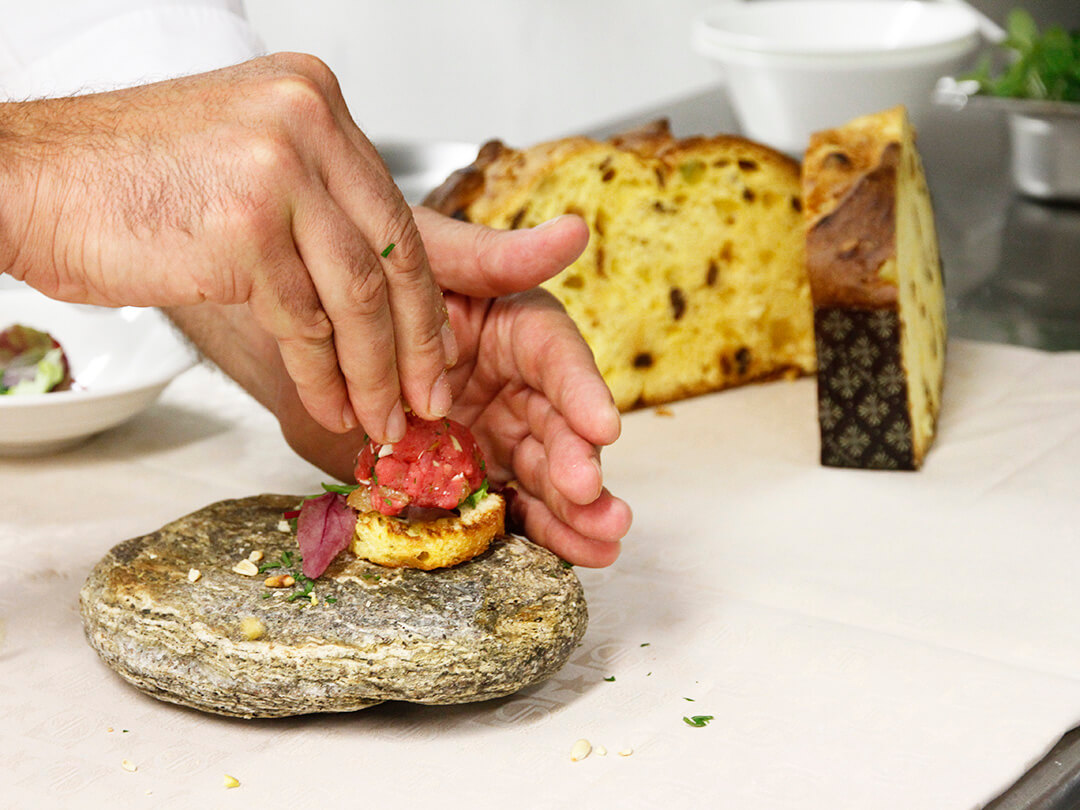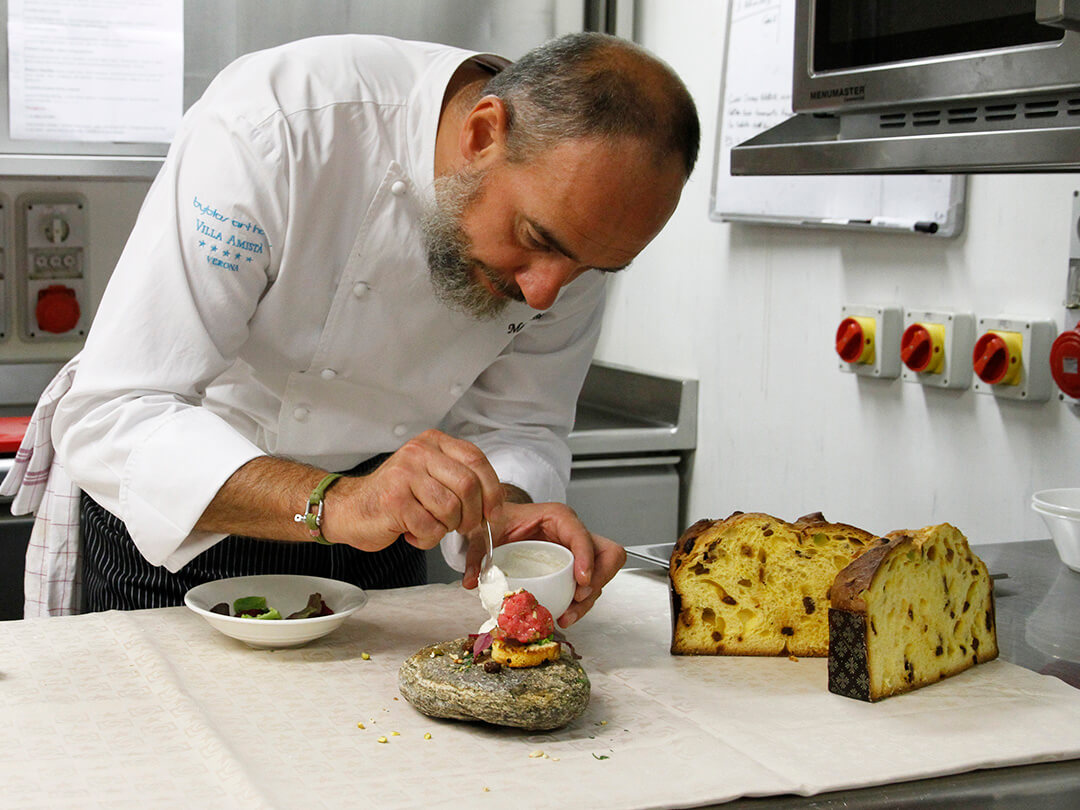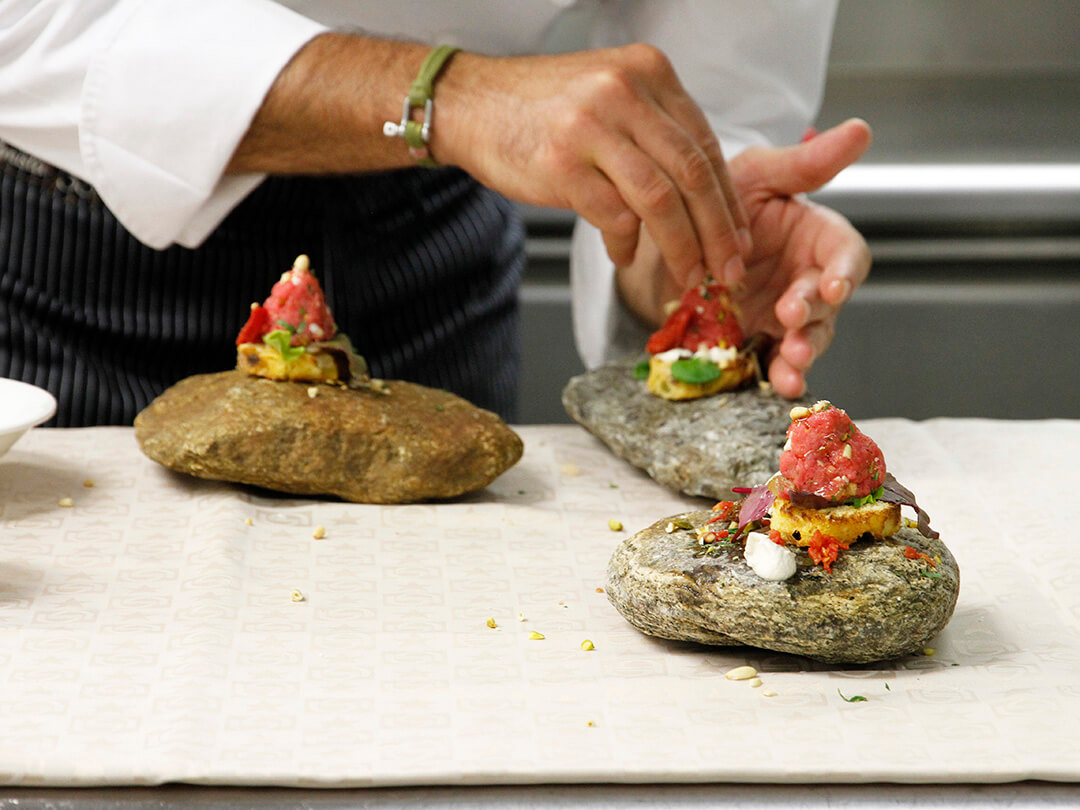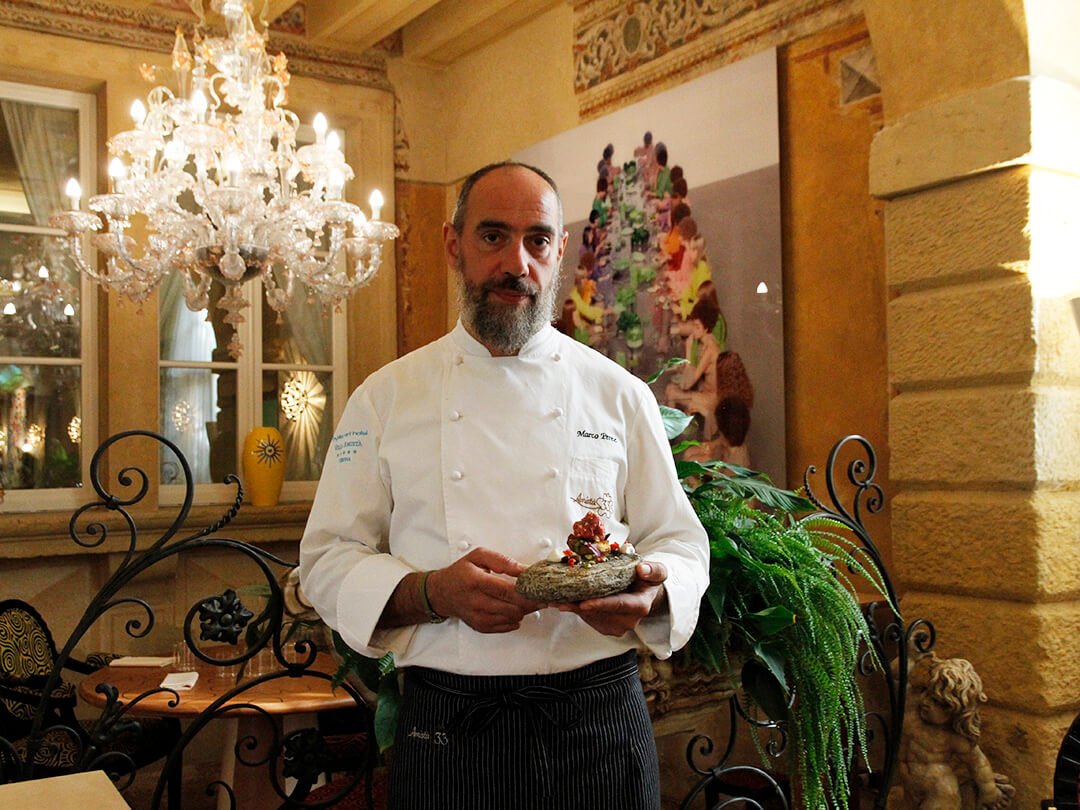 Bon appetit!